This home, located in a new subdivision just off a quiet country road in Brookfield, New Hampshire, has curb appeal galore. Its four thousand square feet of living space is chock full of high-end upgrades: custom cabinets in the kitchen along with granite counters and a center island ... huge stone fireplace in the living room ... custom molding and a custom staircase ... radiant heat in the basement and first floor ... insulation even in the interior walls. Wood floors run throughout the first floor. The kitchen and bathrooms are all granite and tile. You can choose a master bedroom on the first floor or the second. The floor plan is open and spacious, built-in bookshelves stand at the ready for your collections, and there is a luxurious master bath. A nice deck overlooks the two acre property. A lot of thought went into the design and building of this house, and it shows.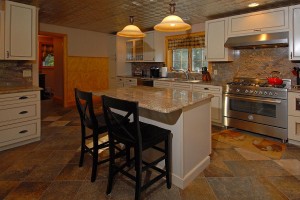 A few words about Brookfield ... a small town settled in the late 1700s, it exists mainly because of the building of the Governor John Wentworth Road from Portsmouth to his summer mansion in Wolfeboro. By the 1780s settlements had sprung up along the northern side of the Moose Mountain range and up Tumbledown Dick, a mountain named for Oliver Cromwell's ill-fated son (I have yet to research how that fact is tied to Brookfield, but it is interesting; if anyone knows the answer, please let me know). Over the years Brookfield was home to grist, bobbin, cider, saw and shingle mills; also tanneries and blacksmiths, inns and shoemaker shops. Today its Town House is on the National Register and it is within the Governor Wentworth Regional School District. Shopping needs are met in Wolfeboro, Wakefield and Rochester.
This home's location provides easy access to Route 16, the main north-south commuting road in these parts. If you're looking for all the comforts of home in a rural community that has resisted the commercial development that has affected so many other towns, come visit us this weekend. The house will be open from 12:00 to 3:00 on Saturday, March 22, and the price is $439,000. For more information and photos, go here. We'd love to see you!